{career.name}
Jobs at Barrett's Showplace Gardens
Fantastic Customer Service.
That's what you'll hear if you ask anyone in our area about Barrett's Showplace Gardens. We're always looking for well qualified individuals to join our team!
Whether you have experience in the Green industry, Floral market, Sales, or just ready and excited to learn, we'd love to hear from you.
Position: Marketing and Advertising Coordinator
This is a part time year round position and will be responsible for developing and coordinating the marketing and advertising program for Barrett's Showplace Gardens and Flower Shop. This involves, print, radio, social media, special events, programs and seminars plus in store signage.

Familiar with computers and proficient with Adobe InDesign or similar graphic arts program, Microsoft Office, scanning and email.
Click Here to View Our Application
Please fill out the application and return to the store or you can email resume and/or application to accountingbgc@yahoo.com
We are an Equal Opportunity Employer and offer an employee discount program and holiday bonuses.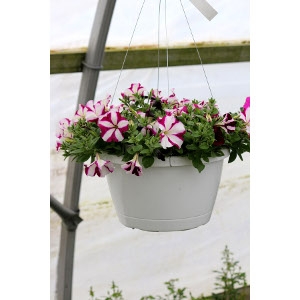 Grown in house Wave Petunia Baskets are now on sale!! Sale: $17.99 Not valid with any other discounts or sales.
Valid: 05/01/2019 - 05/31/2019
Offered By: Barrett's Showplace Gardens
Contact Us Anytime
Feel free to contact us anytime with comments or questions. Our trained staff is ready and waiting to help you. Use this form to contact us and we'll be in touch soon.